CONDOMINIUM UNITS FOR SALE IN p. noval street, SAMPALOC MANILA
INVESTMENT WISE - RENTAL INCOME awaits!
Invest in the University Tower P Noval. WHY?
If your mind is set to earn in the future, you've got the best deal here. You rent to your child who enjoys a safe, quiet, stable and comfortable environment in which to live and study. At the end of your child's studies, you have many options. If you have a second university-age child, there is a home away from home all ready to live on his own. You could rent to other students or tenants as you watch your real estate investment grow. Or, you could live there yourself!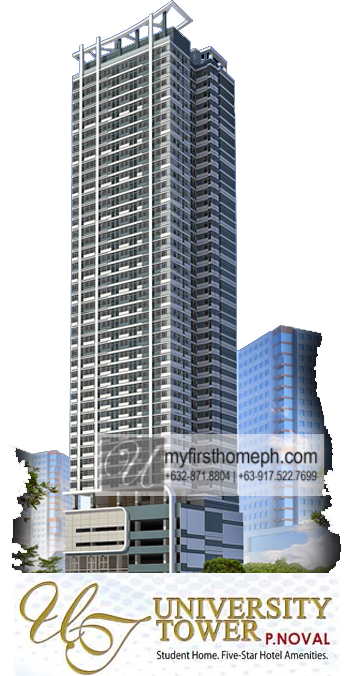 The Student "Hotel" - The first student condominium design with the luxury of a five-star hotel. Enrich your children's lives for Higher Learning through Better Living!
University Tower P. Noval is a 48 storey commercial and residential building. It is the 4th project of Prince Jun Development Corporation which seeks to present the ultimate student living experience by providing a premium quality residence as it offers complete amenities and facilities.
DEVELOPER:

Prince Jun Development Corporation
TURNOVER:

February 2018
If you are looking for a second source of income or an avenue to invest your savings in the most efficient way possible, then rental properties might be the best investment for you. Explore the potential possibilities of buying property investments, and this just might be the money-making break you are looking for.
There are more Studio condo units available at University Tower P Noval with enough space to accommodate at least four students starting at
Php4,500,000.
Contact us today to learn how you can invest in a condo for your student.
RENT - TO - OWN is now AVAILABLE 
For as low as Php28,300 per month rent / 25 sqm area
START PLANNING YOUR FUTURE RENTAL INVESTMENT  
RECREATIONAL FACILITIES & AMENITIES: 
The ultimate student living experience features a unique condominium designed with the innovation present in any luxurious five-star hotel, which provides a premium quality residence that upholds safety, security, and convenience for students. 
A grand and spacious hotel lobby with reception counter and a waiting lounge for visitors. 

FREE WI-FI on all amenity area 

Four (4) Computerized High-Speed Elevators Each floor is provided with Natural lights and Well Ventilated hallway 

24/7 Water Supply with overhead water tanks 

24/7 Power Supply with 100% back-up Power Generator for common areas and allocated amount of power to each unit in case of power interruption Individual Water and Electric Meter on each unit 

24/7 Security and CCTV Monitoring System 

Automatic Fire Alarm and Sprinkler System 

Building safety compliance to local fire code and NFPA 101 Code 

Semi-addressable fire detection and alarm system 

Two fire escape service stair at every residential floor